Decorating White Walls? Bright Ideas for your Kid's Room
February 28 2013
If you can't paint your kid's room walls because you live in an apartment or you just prefer white walls, do not fear. Your kid's room decorating options are far from limited. White walls can be an inspiring starting point for designing a bright and bold baby room. A white wall gives you an empty canvas, which you can take in so many different design directions. We're a fan of
bright colors
because they look so striking on a white background. For example, see how mom,
Taza
, decorated her
nursery
in her white-walled apartment with a collage of bold and bright colors. One of the statement pieces in the room is a yellow dresser that she and her husband painted. She adds a lime green vintage sofa as well as a colorful strand of garland above the non-working fireplace. Her children's multi-colored toys add a ton of visual interest so that nothing else is really needed. Beautiful! [caption id="" align="aligncenter" width="432" caption="Love Taza - Eleanor & Samson's Nursery Tour"]
[/caption] Speaking of
garland
,
Land of Nod
has a fun multi-colored strand made of soft felt, which adds such a festive touch to your white walled room. You DIYers might even be able to
make garland
yourself! [caption id="" align="aligncenter" width="440" caption="Land of Nod - Rainbow Felt Ball Garland"]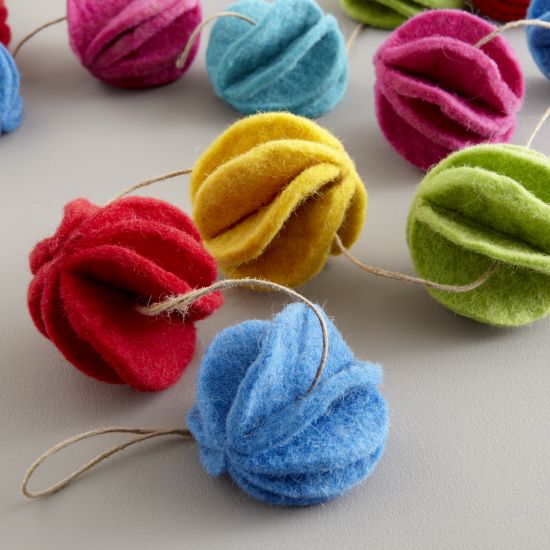 [/caption] Australian blog,
Little Sooti
, is also a fan of white walls in a kids room with a bent of modern,
Scandinavian design
. Her collection of kids room finds include bold touches such as a red rocking horse, blue colored floors, a multi-colored rug, and more. Finally, check out
Babble
for this Scandinavian inspired kids homework/play area which, like mom Taza, uses the color from kids toys to help make the room pop. This
work area
has cute colorful play drums, a mini red piano, a yellow toy suitcase, and more to bring bold and bright to these white walls. [caption id="attachment_4934" align="aligncenter" width="456" caption="weeDECOR - colorful wall decals"]
[/caption] And we would be remiss without mentioning how our
nursery wall decals
can add color to your white walls without the mess of paint. Choose from popular kids room themes such as
princesses
,
trains
,
owls
,
trees
, and
more
!