For those moms longing for the simplicity of times long ago, consider bringing back handmade dolls. We've seen so many darling designs as of late.
[caption id="" align="aligncenter" width="480" caption="Apple of My Eye Organic Modern Doll - Petit Collage"]
[/caption] San Francisco based
Petit Collage
has a 100% organic cotton and wool felt modern rag doll. This cutie called "
Apple of My Eye
", would look lovely on a little girl's bed. We love the bright green and red color combo, too. You can always count on
Etsy
when it comes to gorgeous handmade goods. 
Jane Foster Designs
, based in the UK has created a DIY package where you can
make your own screen printed fabric doll
. She sends you all the materials and you are good to go. For something a bit more classic, see Canadian
Les Petites Mains
handmade tag dolls.
This doll looks so elegant with her slim arms and legs reminding us of a dancer. [caption id="" align="aligncenter" width="456" caption="Louise Soft Handmade Doll - Les Petites Mains"]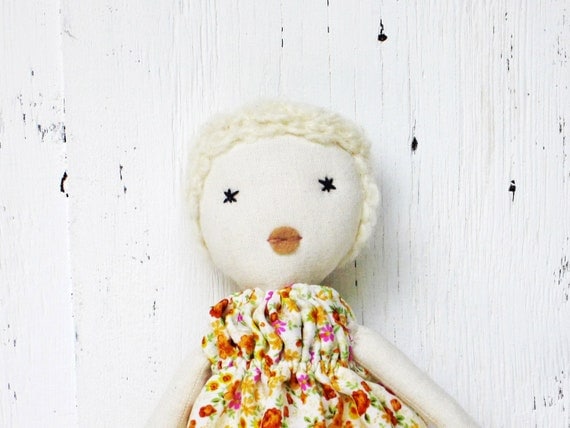 [/caption]
The handmade doll trend does not have to be limited to little girls. These cute animal dolls by Etsy seller
Sleepy King
are just adorable.  Choose from squirrels, bunnies, dachshunds, and more. Your little boy is sure to appreciate a friend with which to cuddle. And,
Mr. Pennyapple
, sold by Etsy seller
PiggyHatesPanda
in Santa Cruz, CA, is a customizable doll with beautiful hand embroidered details. He is also a great option for your little boy.
[caption id="" align="aligncenter" width="456" caption="Goldie the Handmade Dachshund - Sleepy King"]
[/caption] And, if you are considering a doll theme for your little one's room, see weeDECOR's selection of
princess wall decals
for girls and
knight wall decals
for boys to bring the doll theme alive on your walls.
---
[caption id="attachment_1633" align="aligncenter" width="342" caption="Asian Inspired China Doll Toile Nursery with Canopy"]
[/caption] [caption id="attachment_1635" align="aligncenter" width="342" caption="China Doll Toile Fabric "]
[/caption] [caption id="attachment_1636" align="aligncenter" width="500" caption="Asian Inspired Pink Pagoda Nursery Decor"]
[/caption] [caption id="attachment_1637" align="aligncenter" width="351" caption="Pink Pagoda Fabric "]
[/caption] When decorating a nursery, we love a modern look with a touch of nostalgia and culture which is why we love this
Asian antique inspired nursery décor
from children's bedding and accessory company
Whistle and Wink
.  Pretty pink pagodas and lovely antique china dolls dance delightfully on crib sheets, quilts, and elegant canopies.  The prints mix modern colors with
Asian antique imagery
that perfectly mixes the old with the new.  To achieve this, Whistle and Wink uses hand-craftsmanship of tufting, quilting, and embroideries to adorn their bedding and accessories as well as their impeccable eye for Asian details. For example, beautiful black and white
China Doll toile
print is embroidered with blossoms.  The coordinating quilt is made of the same China Doll toile with scattered handcrafted embroideries colored in a delicate garden scene. What is especially darling is you can get a matching China doll toile
canopy
to create an even more elegant look.  The canopy is made with the same China Doll toile as the bedding with handmade pink tassels dangling from the
corners. And, the window valences have cute embroidered nightingales perched on each corner. For a softer color scheme, take a look at the
Pink Pagoda
print.  The baby bundle of this print comes with a hand tufted bumper with the pink pagoda print on one side and white patches of beautifully crafted embroideries and appliqués on the other. As we said, Whistle and Wink has an impeccable eye for detail. Their coordinating Pink Pagoda quilt was inspired by traditional Chinese embroideries and is combined with beautifully crafted American stitch samplers.  Both the Pink Pagoda and China Doll toile prints come in "baby bundles" (i.e. crib sheet, bumper, and quilt) as well as bedding sets for a girl's room.  We are going ga-ga over the use of traditional handmade sateen Chinese closures, called frog closures, that bring that genuine Asian touch to the on the
China Doll duvet cover
. See our other articles for unique ideas on
decorating girls' rooms
and other
unique themed nurseries
.
---