Home decor has crossed over to the dark side. Black walls are making an appearance in every room of the house. They can make a dramatic statement, if done well. Warm whites, brass, unfinished woods, and soft textiles seems to be the most popular pairings.
If you're looking for black wall decals, or black and white personalized labels, we have several available at weeDECOR. And since we print all of our wall decals to order, we can make any of our designs black!
---
Halloween is almost here, and the San Francisco Giants just won the world series! I don't know about you, but we feel like celebrating. Here is some decor inspiration for all you orange lovers out there.
And if you're in need of orange wall decals, weeDECOR has you covered. We have dinosaur wall decals, personalized wall decals, animal wall decals, and flower wall decals all in a lovely shade of orange. We also print to order, so you if you see a decal on our website that isn't offered in orange, email us and we'll make one for you!
---
The end of summer makes us think about those last few trips to the pool or the beach. But, you don't have to let go of that pristine aqua blue. Let summer live on by decorating your baby room in aqua. Here are a few of our recent aqua nursery for those of you considering decorating your kid's room in aqua. [caption id="" align="aligncenter" width="548" caption="Baby Townsend's Room - on to baby"]
[/caption] Get inspired by baby Townsend's
grey and aqua nursery
. Not only are the colors fresh but the bicycle theme woven throughout the room has us grinning ear to ear. In our many years of finding inspiring nursery decor, this is the first bicycle themed nursery we have seen. We love it!  The crib and glider are from Atlanta based
Koo Koo Bear Kids
. Aqua and grey bicycle themed fabric was used to create the lamp shade and the "Townsend" pennant hanging above the crib. Note the cute miniature bicycle peeking out from a shelf in the upper right. Mom painted the aqua nightstand to match her aqua and grey decor. So sweet! [caption id="" align="aligncenter" width="540" caption="Noah's Nautical Nursery - Apartment Therapy"]
[/caption] For those of you with bolder colors in mind, see how cheerful this
aqua nursery
looks when paired with orange and lime green. This aqua nursery puts a different twist on your traditional navy blue and white nautical themed nursery with a few accents here and there - a whale wall decal, a life preserver hanging over the crib, and stripes in non-traditional green and orange. The colors and decor make for a cheery look certain to bring a smile on your little ones face. [caption id="" align="aligncenter" width="570" caption="Coral & Aqua Nursery - iviebaby"]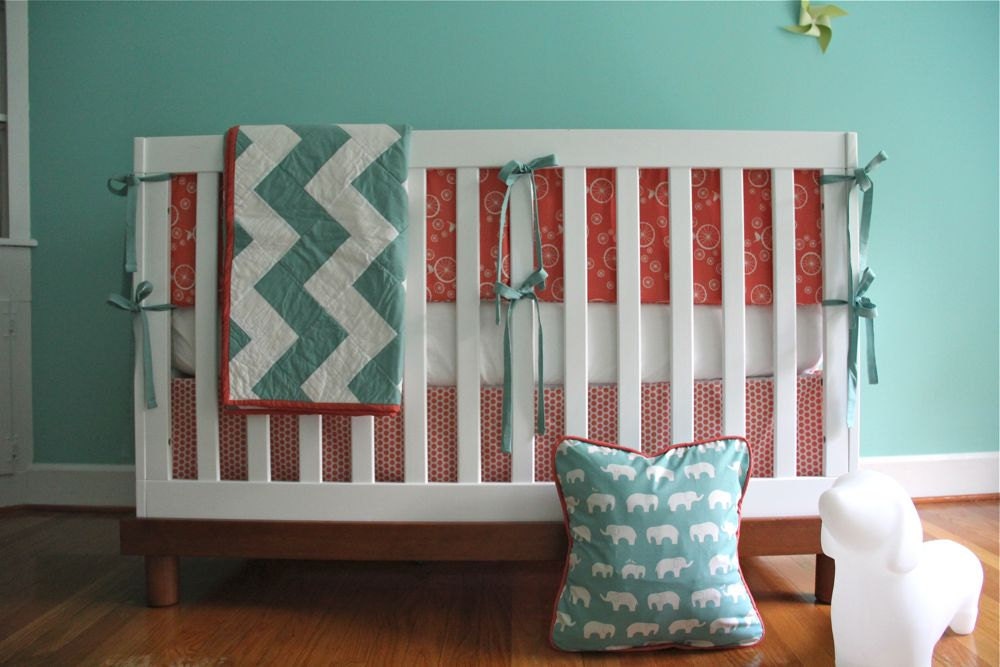 [/caption] Finally, take a look at this gorgeous custom made
baby bedding in coral and aqua
. From Etsy seller
iviebaby
, this baby bedding set shows how muted colors can bring a softer look to your baby nursery. For other ideas on decorating an aqua nursery, see our other articles on:
Pretty Aqua Baby Rooms
Fun with Aqua and Red Polka Dots in your Nursery
Aqua Bubble Decor for your Baby's Room
---
Even though it is summer, we are seeing grey - but in a good way! Grey baby nurseries are all the rage and it's easy to see why. Grey is a gorgeous neutral that pairs well with traditional nursery colors like pink, blue, and yellow, as well as modern colors like turquoise and orange. [caption id="attachment_5032" align="aligncenter" width="491" caption="Grey and Hot Pink Nursery"]
[/caption] Mom of Mila from
Mommy and Mila's blog
knew she wanted to use chevron in her
hot pink and grey nursery
decor. With this pattern, she chose 3 colors for her baby girl's nursery - pink, gray & white. How gorgeous is this nursery? Mom made the "M" in Mila with flowers, hot pink ribbon and a paper mache "M" from JoAnn Fabrics which is so striking against the horizontal stripe painted wall with Behr interior flat in Serengeti dust and Behr high gloss in Compass. [caption id="attachment_5033" align="aligncenter" width="480" caption="Grey and Blue Nursery"]
[/caption] For something a bit more subtle, this
grey and blue baby room
fits the bill. The classic grey crib is stunning in this room as an owl on a branch wall decal overlooks the crib. We also love the two-toned painted wall in blue-grey and grey separated by a white chair rail. Beautiful! [caption id="attachment_5037" align="aligncenter" width="472" caption="Grey and Turquoise Nursery"]
[/caption] Back to the bold look and a more modern take, we love this
aqua and grey nursery
. The mom of this baby boy room was decorating for her third boy so she wanted something a little different. Her grey paint is Benjamin Moore Gray Owl, her baby bedding was custom made by a family friend, and her elephant prints from Etsy. [caption id="attachment_5038" align="aligncenter" width="510" caption="Yellow and Grey Nursery"]
[/caption] Similarly modern, a
yellow and grey nursery
works for a baby boy or a baby girl. See baby boy Burke's nursery above. Gorgeous painted white stripes looks sharp against a muted grey and the yellow helps brighten up what could otherwise be a too cool color scheme. The Ikea chandelier adds a ton of personality to the room and the grey and yellow baby bedding is simply divine. [caption id="attachment_5039" align="aligncenter" width="553" caption="Pale Pink and Grey Nursery"]
[/caption] Finally, this
pale pink and grey nursery
is one of our favorites. Featuring weeDECOR elephant wall decals, we're loving how sweet the color combination and elegant touches make this nursery so darling. White furniture and pale pink bedding and changing table accents bring softness to Audrey's baby room. For more ideas on decorating a baby room in grey, see our other articles on:
The best modern cribs featuring the Babyletto Hudson grey crib
A gorgeous grey and white sheep themed nursery
Another bright and sunny yellow and grey nursery
---
We couldn't help but notice a trend in
aqua baby rooms
. Bright and cheery, aqua can serve as a neutral color as it can handle many accent colors. See some gorgeous aqua nurseries we have found below. [caption id="attachment_5011" align="aligncenter" width="500" caption="Aqua and Pink Baby Nursery"]
[/caption] This
aqua and pink baby nursery
was designed by
Mama Souter
for her baby girl, Harper.  Mama Souter said she wanted, a "sweet girly vintage feel with a few modern touches". What a success! The frilly crib skirt with the vintage birds on the crib bumper are darling and were sewed by her mother-in-law. Her husband painted the tree mural peeking out in the corner of the photo. We love the texture of her bubble gum pink colored rug from Pottery Barn Kids. Note the shade of aqua paint on the walls is on the green side of aqua which lends itself to a minty-fresh look. Yummy! [caption id="attachment_5012" align="aligncenter" width="467" caption="Aqua and Yellow Baby Nursery"]
[/caption] For a more gender neutral feel, see this
aqua and yellow baby room by Susan Weinroth
. Bright and bold, we love the two-toned turquoise walls that show off a deep aqua on the bottom half and a lighter shade of aqua paint of the top half to better reflect the light in the room. We are also fans of the giraffe lamp with a bold yellow lampshade. [caption id="attachment_5013" align="aligncenter" width="397" caption="Aqua and White Nursery"]
[/caption] Back to the girly-girl baby room look, this pristine
aqua and white nursery,
close to a Tiffany blue, incorporates different patterns to add depth and dimension. Aqua and white polka dots, zig zaps, and fun alphabet wallpaper bring the "wow" to this nursery. This nursery, shown in vintage style, can easily be made to look more modern with modern furniture and other modern baby room decor elements. [caption id="attachment_5014" align="aligncenter" width="477" caption="Aqua and Orange Nursery Decor"]
[/caption] Speaking of modern nursery decor, an
aqua and orange nursery
is a great way to go all out modern.
See Cate Create
designed her son Sawyer's nursery in teal and orange with a woodsy theme featuring owls, squirrels, and deer. She made the mobile herself by cutting out leaves and stringing them together like garland. She hand-stamped the nursery pillows, framed the animal silhouettes, and made the owl pillow out of a towel and scrap fabric - a great DIY nursery! For other aqua nursery decorating ideas, see our other articles on:
A Fabulously Modern Aqua and Orange Nursery with weeDECOR Nursery Wall Decals
A Giraffe Themed Aqua and Orange Nursery
Aqua Colored Cribs
---
This Memorial Day weekend, we've found summer inspiration - long sunny days, warm nights, bbqs, pool parties, the beach and more. We couldn't help but think how easy it would be to find summer inspiration when 
decorating a yellow nursery
. See what we have found! [caption id="attachment_4998" align="aligncenter" width="529" caption="Yellow and Red Baby Nursery"]
[/caption] This
yellow and red nursery
from
Style at Home
makes us say "wow". The bright yellow and powerful red dance across white furniture and walls. The red piping in the nursery chair is such a standout design piece that it barely needs discussion. The red star wallpaper pulls together the red accents and allows the yellow curtains and bedding to shine. We also can't help but notice how well the modern and traditional furniture elements work together. [caption id="attachment_5000" align="aligncenter" width="538" caption="Aqua and Yellow Baby Nursery"]
[/caption] Aqua and yellow is another bright and bold combo for decorating a nursery as you can see from this
aqua and yellow nursery
of Noah's on
Apartment Therapy
. The two-toned painted aqua walls separated by a white chair rail are particularly delightful as they provide depth to the aqua and help the yellow stand out even more. We are also fond of the white giraffe lamp with a bold yellow lampshade. Sunny nursery this is! [caption id="attachment_5001" align="aligncenter" width="576" caption="Pale Pink & Yellow Baby Nursery"]
[/caption] Finally, this precious
pink and yellow nursery
is all girl and oh-so-pretty. We were thrilled to help mom decorate her baby's nursery with our 
nature wall mural decal
in pale pink. The wall paint is "Moonlight" by Benjamin Moore as her warm,. Her 
pink and yellow crib bedding
was purchased from Pottery Barn Kids. See our other articles on:
Decorating a Gender Neutral Yellow Nursery
Decorating a Pale Aqua and Yellow Nursery
Decorating a Yellow and Bright Pink Baby Room
---